14 Oct

Meet John Lane Silva
Fall Intern 2019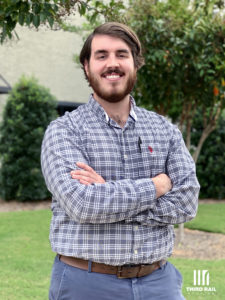 My name is John Lane Silva and I am 25 years old. Originally from Brunswick, Georgia, I moved to the Atlanta area to pursue education at Kennesaw State University, where I plan to graduate in the Fall of 2019. Education was the driving force that allowed me to move to the Atlanta area, however music was the passion that I truly wanted to pursue.
Music has been my main focus for the last ten years of my life. I started out learning guitar and piano, and started playing in bands, which I still do to this day. It was my interest in bands that lead me an interest in songwriting and audio engineering. Over the last eight years, I was able to work in three music studios where I learned the fundamentals of audio engineering. It was here that I learned how to situate sounds in an effective way and capture them. Something that would help me for what came next.
That new chapter was composing for film. About two years ago, out of the blue, a close friend asked for me to take a swing at scoring a short film. I had never done anything like that, and never even thought about it, but decided to give it a try. After that, I was hooked. I found myself captivated with not only the ways music and film worked together, but filmmaking in general.
So I started educating myself on media production by taking courses in documentary filmmaking, film studies, digital media production, and screenwriting. I was learning a lot about these things in school and continued gaining experience by working on outside productions. In a two year period, I scored seven short films, one feature length, and worked in pre-production for two more projects.
This stretch of time is when my career goals shifted. I have always wanted a career in music, but have found a new interest in the film industry. I am still trying to bring these two passions together as I continue learning about industry. Along with writing and cinematography, I am also interested in audio engineering and composition for films.
I hope this opportunity with Third Rail Studios will teach me about the ins and outs of filmmaking, bring focus to my career path and help me make connections within the film industry. I am looking forward to learning and hope this brings me one step closer to my goals.