14 Oct

Meet Caroline Bond
Fall Intern 2019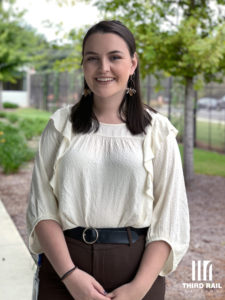 My name is Caroline Bond, I am 21 years old, and I am originally from Warner Robins, GA. I attend Oglethorpe University and am expecting to graduate in 2021 with a degree in Film and Media Studies and a minor in Communications. On campus, I am a member of the Delta Pi chapter of Alpha Sigma Tau and am currently serving on our executive board as the Vice President of Community Relations. In my spare time, I enjoy spending time with friends and family, exploring Atlanta, and creating art through photography, film, and textiles.
My parents would describe me as a creative child, often embarking on magical adventures with my little brother all around our neighborhood. We would come home and tell our parents about the challenges and victories we faced in our magical little world. My love for storytelling originated here and was further provoked by my history classes in school. While history was one of my favorite subjects, I knew it wasn't what I wanted to pursue. I also knew that I was terrible at math and science, which made it hard to decide what I wanted to do once I graduated from high school.
It was my love for competition reality television that really drove me to pursue a career in the film industry. I grew up watching shows like Survivor and Big Brother and joined an online community that studied and emulated the games. This community taught me so much about how the shows were produced and edited, and I began to play with editing software to create my own music videos and mockumentaries. It also connected me to a live game in Tennessee that emulated Survivor, so of course, I jumped at the opportunity to be a contestant. This led me to volunteer as a production assistant for them for two of their following seasons. I helped with casting, challenge and game twist conceptualization, and onsite filming. It was a lot of hard work, but this experience really sold me my love for film production and is what I believe to be what really solidified my decision to study film in college.
I came to Atlanta because of the booming film industry, and expected to receive an education with few barriers, but unfortunately that was not the case. Oglethorpe is small, so when the primary film professor passed away unexpectedly, the future of my education was placed in limbo. Luckily, Oglethorpe used this unfortunate event as a catalyst in the revamping of their film program. My education is back on track and our program has seen a lot of positive change.
Being accepted to the internship program at Third Rail Studios is, at risk of sounding cliché, nothing short of a dream come true. Through this internship, I am hoping to further build a community of creative individuals who are passionate about their work, learn valuable knowledge about the industry, and how to navigate it. Professionally, I plan to work towards becoming a line producer, and hope to work in the creation of film and television shows that prompt deeper examination of the people and the world around us, whether it be through a fictional narrative or social experiment like the competition-based reality shows I grew up on.
I have many goals set for myself and some of those goals I plan to achieve while working in the film industry. I would say, my biggest goal is to be an EGOT winner. For those who may not be familiar with the term, an EGOT winner are those who won an Emmy, Grammy, Oscar, and Tony awards, but in no particular order. I want and plan on being as involved in the entertainment industry as much as I possibly can. It's easier said than done, but I'm confident and dedicated to the hard work to get to where I want to be. To take it up a notch, I also want to win either a Peabody Award, Pulitzer Prize, or both. Currently there are only three people in the world with the honor of PEGOT recipients, and I plan on becoming one of them.