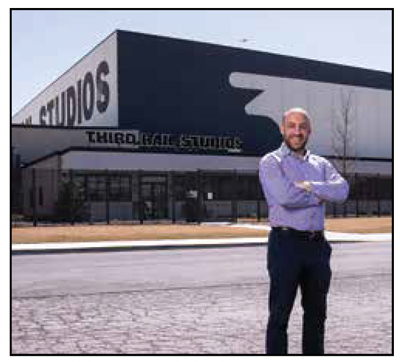 01 Jan

HOLLYWOOD IN D-WOOD
Georgia is second only to California in movie production, and Dunwoody continues to have a seat at the table, serving as locations for films including Richard Jewell, Baby Driver, Trouble With The Curve, Mothers Day, Spider-Man Homecoming and more.
When Hollywood comes to Dunwoody, City Hall is one of the first stops. Movie and television producers have to file plans with the community development department and secure a film permit. If they use directional signs for cast and crew, they also need a city sign permit.
In 2019 alone, Dunwoody was the site for productions of "The Outsider" (HBO, starring Jason Bateman), "Ghost Draft" (starring Chris Pratt), "Richard Jewell" (directed by Clint Eastwood), "Brockmire" (IFC) and "Lodge 49" (AMC). Filmed in the former Goldkist Foods headquarters on Perimeter Center Parkway, permit applications show that the productions involved a total of 36 cast members, 214 extras and 610 crew members.
Georgia is now considered the world's second most popular location for shooting, and the industry is well-represented in Dunwoody.
The Studio Exec
After living in Los Angeles for 15 years, Dan Rosenfelt was ready for something more "low-key." He also wanted a great family environment.
"Dunwoody fit the bill perfectly. My favorite thing about Dunwoody is the friendliness and openness of the people who live in this lovely city," said Rosenfelt, who is married with two children. "It has a warm, hometown vibe."
Dunwoody is also close to Doraville, where he opened Third Rail Studios three years ago on the grounds of the old General Motors plant. Third Rail is a full-service film studio with three 20,000 square-foot sound stages, production suites and a backlot.
"My focus is providing the best possible experience for our film and TV production clients as they set up camp in our production offices, support spaces, and sound stages," he explained. "I communicate with all of the major studios (Netflix, Disney, Universal, etc.) on a weekly basis and help to bring their shows to Georgia."
The new Netflix series, "Dolly Parton's Heartstrings" and the new Clint Eastwood film "Richard Jewell" used sound stages at Third Rail in 2019. Past productions also include Dwayne Johnson's "Rampage." "More content is being produced now than in any other time in the film industry's history," Rosenfelt said. "More cast and crew members have moved to Georgia over the past several years due to the viability of maintaining a solid career and enjoying a high quality of life."
Rosenfelt grew up in Pennsylvania and said he enjoys having discernible seasons again and living in such a forested city. He's also finding new Dunwoody favorites for food, including Village Burger, Cafe Sababa, Carbonara Trattoria and Nai Thai.