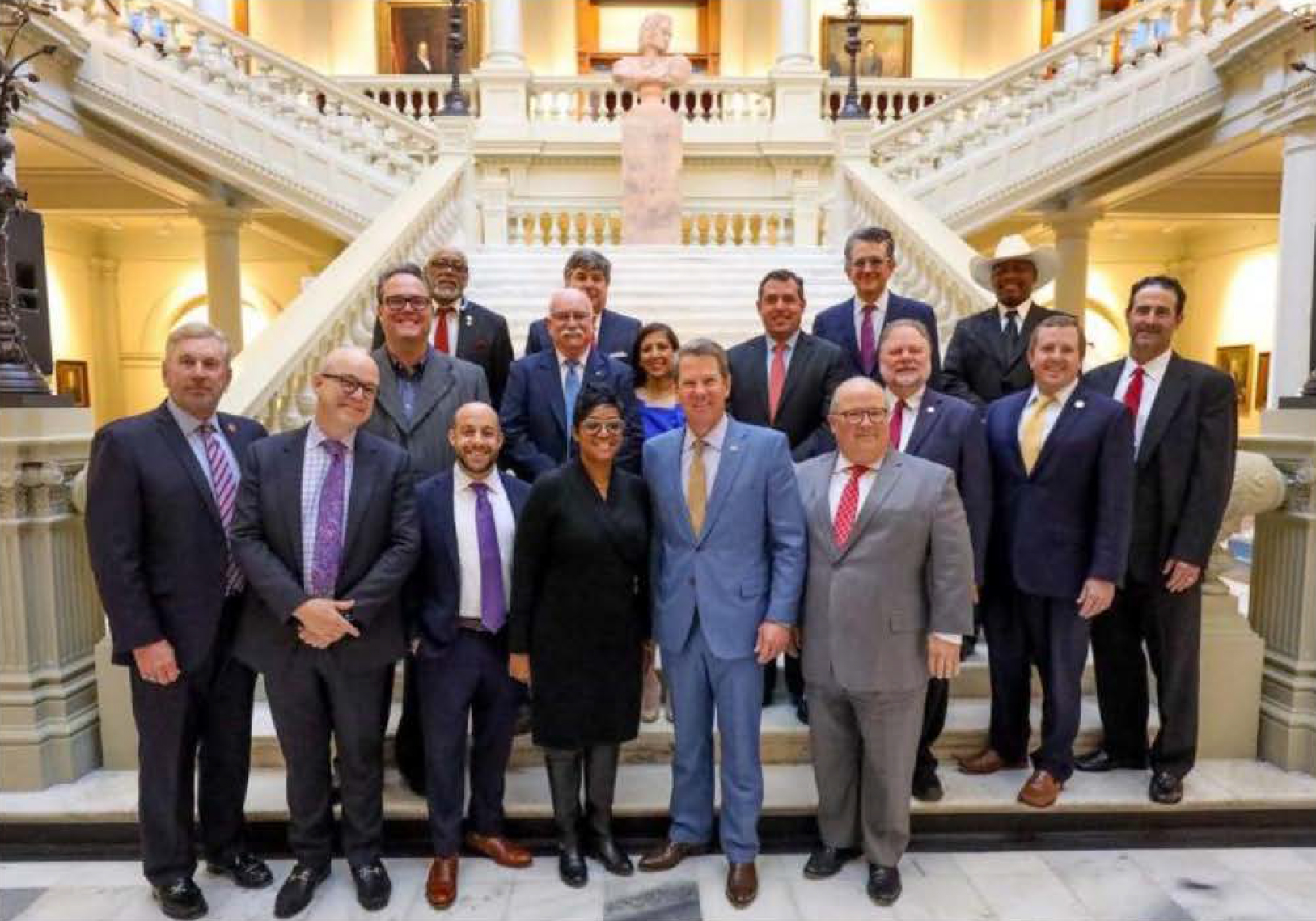 31 Jan

Governor Kemp Swears in 18 appointees
Georgia Governor Brian Kemp swore in 18 appointees from various facets of the entertainment industry to be a part of his new Georgia Film, Music, and Digital Entertainment Commission.
The move is not unprecedented; previous Georgia Governor Nathan Deal had a similar commission. The appointment of this commission is a move that fortunately implies Kemp does in fact want to protect and foster the booming industry. All individuals, from educators to lawyers to union representatives, are already actively involved in advocating for and representing the industry in various agencies and organizations throughout both the state and country. At press time, the commission had not yet met, so members were not certain how Kemp plans to utilize their expertise, but those Oz spoke to have grand goals for how they aim to help keep the industry thriving and growing in the Peach State.
Craig Miller, the owner of Craig Miller Productions, is one of the newly appointed members of the commission, and also served as the chair of Deal's iteration. "Governor Deal's commission usually met about once a quarter, and we served at the governor's pleasure. We monitored what was going on in the film industry during those meetings, and were proponents of the continued growth and development of the industry.
That commission didn't really have any problems to solve," said Miller. Miller plans to use his role to help push the industry into what he considers the final stage of full sustainability. "First we needed the legislature to create a tax incentive," he began. "Then after the incentive was in place, we needed infrastructure; there were only one or two soundstages in Atlanta in 2008, and now there are more than 20 studios and multiple sound stages across the state of Georgia. After infrastructure is education, to get Georgians to work and get everyone up to speed to be able to handle the volume of work coming in, and then after education you need content creators. We are right at that stage now. We need Georgians wanting to tell their stories. We need investors to make financial commitments to making the stories of Georgia writers and Georgia directors and Georgia producers. That is what will create an industry that is fully sustainable and provide work for Georgians for years to come."
Dan Rosenfelt, president of Third Rail Studios, also sees cultivating creatives as an important step for the industry. Rosenfelt moved his family to Georgia from Los Angeles three years ago to work at Third Rail. "In LA, I just did my job," he explained. "I didn't have to advocate for my industry, but here, it's incentive that is the driver of production, and a place that is relatively new to the industry, there is a lot of education that is needed, not only with the public, but with lawmakers, to really show them what it looks like on the ground making TV shows and movies." Rosenfelt is passionate about being an advocate for the industry, and has actively done so since he moved to the state. His role on the commission only furthers his ability to do so, and he hopes to create a clear picture of just how broadly the industry impacts Georgia. "It goes far beyond just the number of jobs and how much [production] spends directly in the state annually," he stated. "It's staggering just how many people this industry touches in Georgia. There are ways it spreads out that you can't entirely measure. Cast, crew, and production members spending money at outside businesses, giving time and money to non-profits; it's untrackable how much money is spread around town to businesses that would never in a million years think that the film industry would connect with them." He is also acutely aware of how legislation could affect the industry, and hopes he can make sure all sides of the picture are seen by policy makers, so they know the broad scale ramifications of laws they propose. "The studios are absolutely beholden to their talent: actors, directors and creatives, and most of those people, if given their 'druthers,' want to film in California, so they don't need much excuse to put their screws to the studio," he explained.
" we need Georgians wanting to tell their stories. we need investors to make financial commitments to making the stories of Georgia writers and Georgia directors and Georgia producers. That is what will create an industry that is fully sustainable and provide work for Georgians for years to come."